Categories
Ecuador: Arcsa trained customs personnel to identify counterfeit products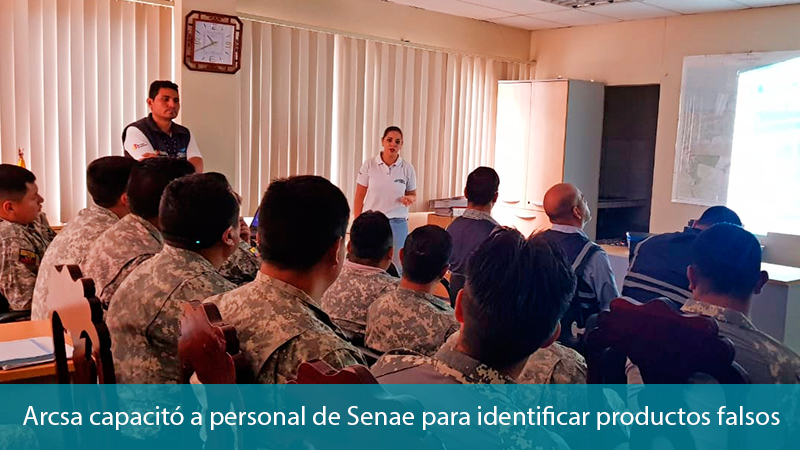 In order to prevent the entry of counterfeit or adulterated products across national borders, the Zonal Coordination 7 of the National Agency for Health Regulation, Control and Surveillance (Arcsa) trained the surveillance personnel of the National Customs Service of Ecuador (Senae) of Huaquillas on the identification of the Sanitary Registry, Sanitary Notification and benefits of the "Arcsa Móvil" application.
This action will allow applying the knowledge imparted at the time of the controls at the border with Peru, where the staff of the Senae can immediately identify the irregularity of a product through said application, and then trace a course of action with Arcsa to prevent it from reaching the market and being consumed by the population.
This activity is part of the inter-institutional work between Arcsa and the control authorities, with whom verifications of compliance with the Sanitary Regulations are made in the labeling of products for human use and consumption, such as Sanitary Registry, Sanitary Notification and expiration date that must be have processed foods, medicines and natural products for medicinal use.
"We know the risk of consuming a counterfeit or adulterated product, for that reason we look for actions that are within our competences that allow us to protect the health of consumers," said Verónica Loaiza, zonal coordinator 7 of Arcsa, "we work on several preventive strategies with the other control institutions that allow us to reinforce the decrease of income of products that do not comply with the Health Regulations ".
Source: https://www.controlsanitario.gob.ec/arcsa-capacito-a-personal-aduanero-para-identificar-productos-falsificados/