Categories
Embassy of Mexico in Panama presents pharmaceutical companies to Authorities of Ministry of Health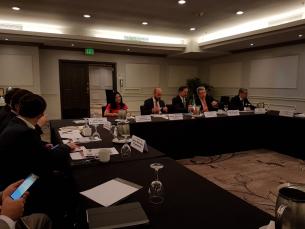 In order to strengthen commercial ties between the Republic of Panama and Mexico, the Seminar "Business Opportunities for the Health Sector in Panama" was organized, organized by the Embassy of Mexico of Panama with pharmaceutical companies that present their products and services for future negotiations. In our country.
On behalf of Panama, the Vice Minister of Health, Dr. Eric Ulloa, explained that in the country there is a Health Policy and Strategic Guidelines 2016-2025 framed in the responsibilities as the governing body of Health in Panama and other shared in search of the equity in health a right of all.
(…)
In this regard, the Ambassador of Mexico in Panama, José Ignacio Piña, indicated that the Panama Trade Mission is an initiative of PRO Mexico, is part of the strategy of the Mexican pharmaceutical industry at an international level.
He also mentioned that Mexico is the second largest market in Latin America in the Pharmaceutical Industry and is an important producer of high-tech medicines. For 2016, in this sector reached the sum of 1,300 million dollars, while investment in this sector of 99 and 2016 was more than 8 thousand 500 million dollars.
Other important achievements are currently being the first exporter of medical devices in Latin America and the eighth globally. It is the third world exporter of instruments and equipment for medicine, surgery, dentistry and veterinary medicine; and the seventh global carrier of needle syringes for medical use, Piña added.
In 2014, the Ministers of Health of Panama and Mexico signed the cooperation agreement on medicines. The new agreement seeks to increase technical cooperation to strengthen Panama's ambulatory capacity of health and medication registries.
Finally, the Vice Minister of Health, Dr. Eric Ulloa, thanked the Ambassador of Mexico in Panama for his deference. José Ignacio Piña and the participants of the workshop that strengthen the bilateral relationship of both countries.
Source: http://www.minsa.gob.pa/noticia/embajada-de-mexico-en-panama-presenta-empresas-farmaceuticas-autoridades-del-minsa