Categories
The Seventy-first World Health Assembly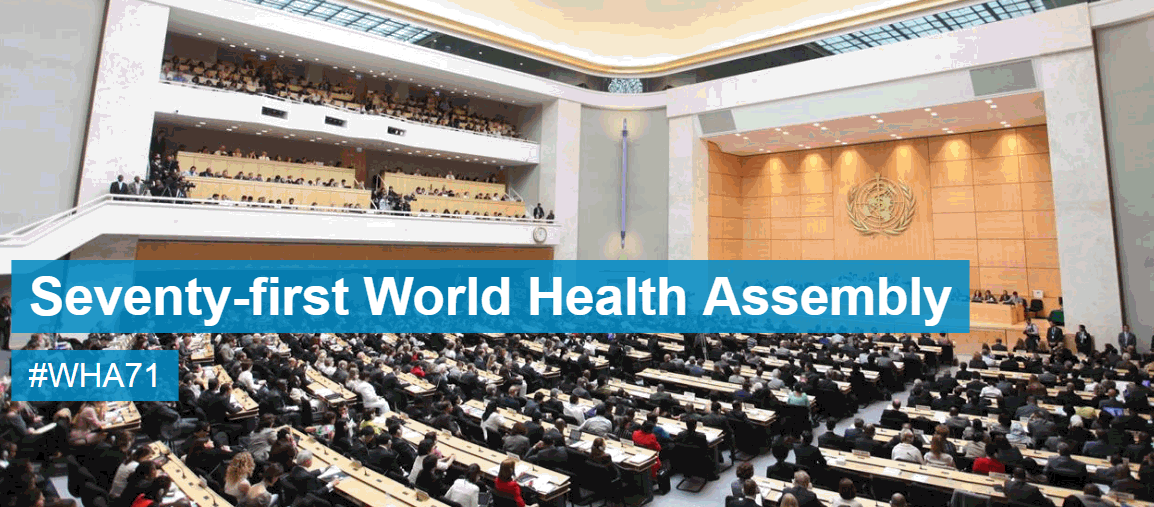 The World Health Assembly The World Health Assembly (WHA) is the decision-making body of WHO.  It is attended by delegations from all WHO Member States and focuses on a specific health agenda prepared by the Executive Board.
The main functions of the World Health Assembly are to determine the policies of the Organization, supervise financial policies, and review and approve the proposed programme budget.
This year's Health Assembly takes place on 21–26 May 2018 in Geneva, Switzerland.
Live at http://www.who.int/world-health-assembly/seventy-first
Following the WHA at http://www.who.int/world-health-assembly/seventy-first/social-good
 World Health +SocialGood: Show schedule
Tuesday, 22 May
Bringing health to all
Universal health coverage: what it means and how we can achieve it
HIV/AIDS: achievements and challenges
Smallpox: the story of eradication
Wednesday, 23 May
Keeping healthy in today's world
Air pollution
Transfats
Assistive technologies
Maternal, child and adolescent health
Thursday, 24 May
Keeping the world safe, serving the vulnerable
Ebola in the Democratic Republic of Congo
Cox's Bazar
Vaccination to prevent and contain outbreaks
EPI: the early days
Influenza: prevention and control
For more information about the Seventy-first WHA, go to http://www.who.int/world-health-assembly/seventy-first